Productions Berlin (Gaby, Nina, Leola, Kleines Rehauge) Portrait Extreme 4 [DVDRip] Scat, Germany
Productions Berlin, Gaby, Nina, Leola, Kleines Rehauge, Scat, Bizarre, Asslicking, Fetish, Peeing, Oral, All Sex, Anal, Fat, Fisting, Germany, 2003, DVDRip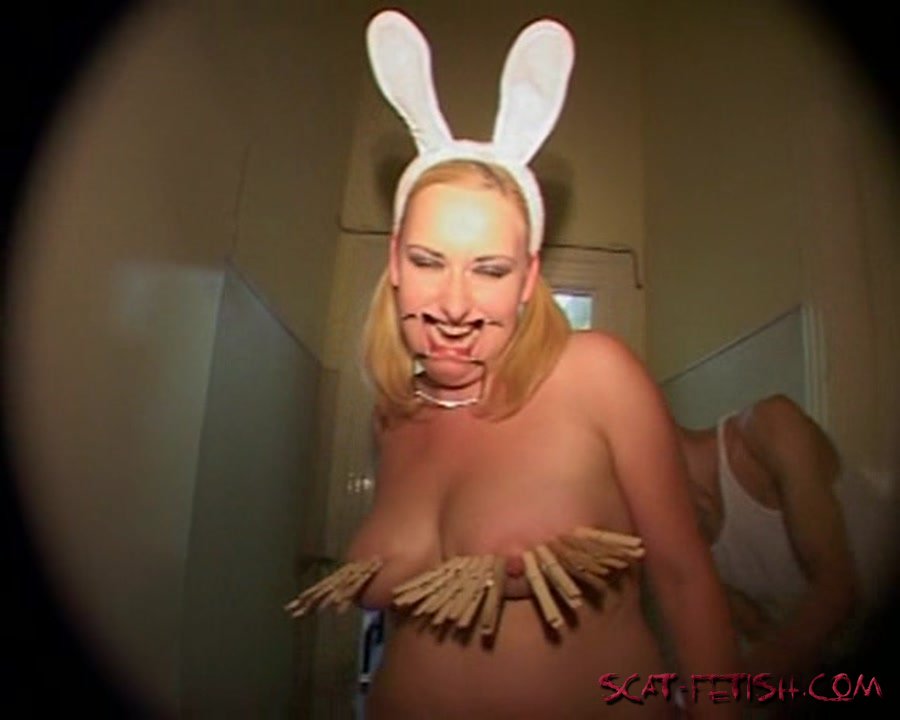 Vier Frauen - ein Wunsch: endlich mal ins Maul gesch zu kriegen. Davon hat Leola aus München schon lange geträumt und sich schon paar Mal einen drauf "g´wixt", wie sie in ihrem unnachahmlichen Münchner Akzent gesteht. Zuerst hat sie, ein bisschen Angst davor gehabt, doch heute wird ihr Traum endlich wahr. Als Thaur ihr gleich die ganze Packung gibt, wird gleich weiter "g´wixt" und als Thaur mit seinen Füssen die "Distribution" der Packung auf das ganze Gesicht regelt, kommt regelrecht Orgasmusfreude auf. Gefragt ob sie jetzt in ihrem Shithead- Outfit auf die Straße gehen würde gurgelt sie folgsam "Wenn mein Herr und Meister es befiehlt", doch für heute soll es erstmal genug sein.
Das "kleine Rehauge" dagegen kommt, weil es ihr sehr wichtig ist, ihre Psyche zu überwinden, wie sie ein wenig umständlich erklärt. Viel Tam-Tam und Diskussionen und "bitte nicht gleich die volle Ladung" sondern "schön langsam nach und nach". So schleckt das Rehauge erstmal ein kleines Stückchen Sch... und schwupps: schon ist die Psyche überwunden.
Auch Gabi Nr. 1 hat sich ihre "Premiere" für Thaur aufgehoben. Weil sie später mal im Filmgeschäft tätig sein will, strengt sie sich besonders an und kommt mit Hasenohren und Wäscheklammern-Adlerflügel an den Brustwarzen. Ganz überzeugt sie zuerst nicht, weil sie, obwohl sie brav "sch... in mein Maul" nachgesagt hat, immer ihren Mund zumacht und vielleicht eine Runde zuviel kichert. Immer wieder äußert Thaur den schwierig zu erfüllenden Wunsch "alles sauberzulecken", was natürlich nicht so einfach ist, wenn das ganze Köpfchen zugesch ist. Deswegen gibt's auch noch mal einen strammen Arschfick vom Meister hinterher. Trotzdem wird Gabi Nr. 1 doch lieber noch mal vor der großen "Filmkarriere" ins Kitkat-Traininglager geschickt:
Pluspunkte sammelt sie, in dem sie X-mal bedauert, wie unbequem er's beim Sch.. in der Hocke hat, was sich bei ihm zu einem längeren "Geschäft" entwickelt. Auch durch langanhaltendes Arschlecken gibt's kein volles Package, obwohl Gabi durch Arschbohren nachhilft. Gottseidank stehen im Haus gleich Rolf und Axel bereit, die an diesem Tag besser drauf sind. Hier kann Gabi sich als Treppen-Toilettensklavin wirklich für jede Avantgarde Filmrolle profilieren. Ersterer ka... ihr ein Häufchen in den Mund, um es gleich anschließend in Gabis großes Mäulchen zu rammen und erfreut die beiden kritischen Tester anschließend damit, wie sich es sich zugesch auf der Treppe mit ihrem schwarzen Dildo selbst besorgt. Zu guter Letzt kommt die dicke Nina, die "obwohl sie eigentlich dominant" ist, es auch mal probieren will. Thaur besteigt im wahrsten Sinne des Wortes den Fleischberg und vögelt sie in seinem ureigenen Staccato-Stil in den Arsch. Doch als es dann zur Sache geht wird aus der selbstbewussten Nina, die noch frech "gibs mir gibs mir" gerufen hat, ein renitentes Wesen. "Zu bitter" kommentiert sie die erste Ladung und will nicht mehr mitspielen.
Cast: Gaby, Nina, Leola, Kleines Rehauge
Genre of video: Scat, Bizarre, Asslicking, Fetish, Peeing, Oral, All Sex, Anal, Fat, Fisting, Germany
Duration: 01:49:47
Quality: DVDRip
Resolution: AVI Video DivX 5 640x512 25.000 FPS 900 kb/s
Format: avi
Size: 706 MB
Download Gaby, Nina, Leola, Kleines Rehauge - Portrait Extreme 4 from DepFile

Tags:
Productions Berlin
,
Gaby
,
Nina
,
Leola
,
Kleines Rehauge
,
Scat
,
Bizarre
,
Asslicking
,
Fetish
,
Peeing
,
Oral
,
All Sex
,
Anal
,
Fat
,
Fisting
,
Germany
,
2003
,
DVDRip
Save in social network:
Dear visitor, you went to the site as unregistered user.
We encourage you to
register
or enter the site under your name.