Solo Scat (Princess) Worship My Poo I Sniffing, Licking, Chewing Poo [FullHD 1080p] Shit, Defecation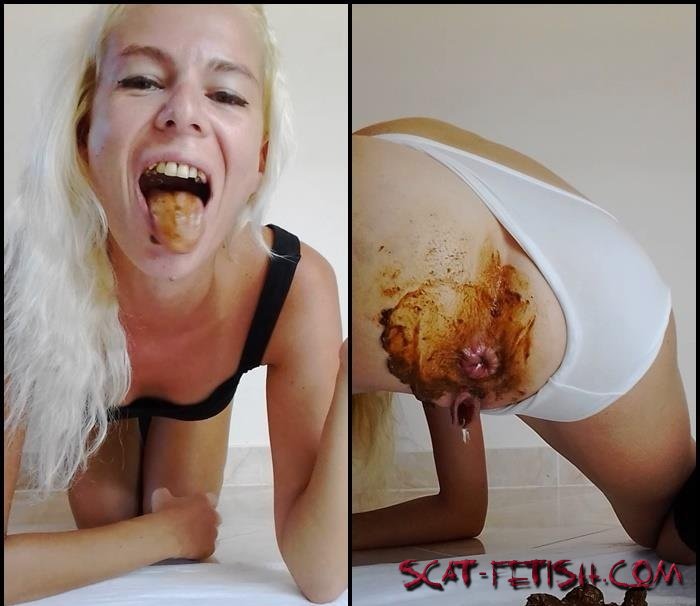 Worship My Poo I Sniffing, Licking, Chewing Poo
I wear yellow summer dress in the video. Desperation because I feel how much poo wanna run out of my ass but I hold it. Big long and huge poo. I tell you how I feel myself then Do you know what else I want from you? The best thing what could be happening. Worship and love my dirty asshole and also my yummy big poo! How much you wanna love them and worship them all the time not only when I wanna hear. Always. So tell me do you like this pretty dirty asshole of mine? Do you wanna lick it around? Clean it off my poo? I know you want it so bad. I show you my ass pretty close up to cam and you can watching how running out my big and long poo. Peeing too. Puckering my asshole makes it dirty and smearing some poop on it. Now you can tell you just worship my filthy asshole. Then I show off my big turd on a plate so you can see what a nice amount of chocolate. I take a piece and give you for trying. I smear it on my tongue then put in my mouth and chew it. Smear it on my teeth too. Are you jealous? You would try to taste as I do? I just tell you to sniff it and lick my turd, and I do the same just showing you how I worship my own poo? Don't forget it just focus on my dirty ass and love my yummy poo? Sexy video with big pooping, dirty asshole ,lots of poo sniffing, licking, and chew it in my mouth.
Stuffing, Licking Eating My Shitty Lollipop
I'm fully nude in the video. Showing off many times my beautiful ass and asshole and tell you I wanna eat some munchies, something sweet as a lollipop. But I have a strawberry pop and I wanna play with it. Besides this I have to poo so much so after little tease you can watch my tight asshole is opening wide and coming out my beautiful long and yummy poo. I'm stuffing my pop into my ass and feel inside a huge poo, fuck my hole and lick it clean too. So playing ass to mouth with my strawberry pop. Then poop more. I just keep stuffing what it feel so good to my ass. During poop peeing as well. Then I feel maybe finish with pooping , hold my pop and deep inside my hot poo and Taste them and lick it clean and swallow it. I ask you few times how much you wanna taste me? Then repeat it all. Smear my poop on tounge and teeth too. Bit later turn around and in dogystyle you can admire my dirty asshole and fucking a bit more with this lollipop. At the end in POV style I smear more poop on my tounge and show you close to the cam?
Totally Destroyed My Panty Licking My Poo
In this video I wear only a see through white panty. I really have to poo and I desperation so much. Have to hold it back because I can poo in every each second. I tell you how much I'm suffering and how bad feeling this. But besides this desperation encourage you to stroking that cock of yours nice and slowly first. Show off my panty and start to push big poo into my white panty. I push it hard. This scene is POV when I poo in, you can watching my shitty panty close up view. Then smearing and totally destroy it. So much poo. Smearing back and front then take it off and show you how to jerking your hard dick to my messy and dirty ass. I want to see your hard dick till I get messy. After that I show you my shit filled panty to the cam and start to licking my yummy poo. Hold it on my tounge and smear it on my teeth too. Swallow it. Do you wanna taste me as I did with my poop filled panty, don't you? So nice. I'm your dirty princess you know it well?
Stretching Finger Fuck My Dirty Ass-Licking Shitty Fingers
I'm wearing one of my favourite white panty with knitted leg warmers. Streching my body and I show you how flexible I am. Yes I'm very flexible and I lift my leg next to my ear. ? I feel really have to poo but before I push out I finger fuck my tight asshole. Oh wow it feels amazing. I got sweaty so much till I fingered myself.First I finger slowly then harder and harder and inside I feel my poo. I slide first one then 2 fingers in my ass and get hard fingering then I poo. Stinky, sticky poo. Keep finger fucking and poo more. You can hear me moaning how much I enjoy my dirty ass. You could hear the sound of my ass, mix poo and my wetness makes sound ? Then pee and push out more poo. My asshole is swollen, from finger fucking. So nice ? Then I lick and clean my dirty, shitty fingers till will be clean. And I show my filthy tounge covered with my shit ? and swallow then. In the final minute I show one more time my dirty ass.
Pissing in my cup and pouring on pussy
I peeing a lot in this video too. I put a cup on the floor and try to pee into. Wanna fill up with my nectar. But some times I just pee over on the cup not in ? But doesn't matter you can watch my beautiful pussy peeing with strong stream too. When I feel I have no more pee I lift up my cup and pouring on my pussy and smearing it.
POV Very CloseUp Shitting With Body Smearing
I really had to poo in this video. I have to hold it so much. I'm totally nude and teasing you as always, showing off my perky tits and round ass, feet. I filming in POV for awhile and you get amazing extremely close view to my arsehole and pussy. I like puckering and do few times for you. Then push out my big turd, half hard then comes out softer poo from this pretty asshole. Still very close up view. Puckering my swollen asshole and peeing. Then I put the camera away, and smearing my yummy shit on body, first on my sexy feet, legs then tits and tummy etc. I put on my lips too ? I love this video. So sexy really enjoyed. HD quality with crystal clear details. With lots of love from me?
Blonde Shitting Huge Destroy Her Panty Smearing
I love this video too ? I wear light coloured bikini with knee socks and white sneakers. I tease you with my sexy moves, showing off my ass, tits.. I'm sure you wanna see me when I shitting into my cute panty. Do you? ? I feel have big poo inside me. I'm looks so innocent blonde girl but I'm not, I turn to be a filthy girl what you wanna see so bad dirty boy. I encourage you to stroke your hard cock for me. You cannot stop jerking for me even if I say. But I wont. I'm your nasty girl. And this innocent look girl shows off her filthy side ? Jerk it for me up and down … I feel i cannot hold my poo so while I talking to you I turn back to cam my panty still on and I start to shitting in my cute panty. You get nice view always. I push it so hard a bit hard poo come out of my tight asshole. You can admire I fill up my panty with yummy poo. Peeing too. Then I smearing my poo, I want soak my panty in this dark shit. So I do big smearing and destroy my panty. But hope you're still stroking while you watching me… I take off half way my dirty panty and you get nice view to my shitty ass and panty. I keep smearing make bigger mess. Then take my panty off and smearing more poo on my tights and ass . I tell you keep stroking your cock and watch my messy body, I want you to cum over on me. I am your dirty Princess… I give you cum countdown at the end. And you'll expload me:) On the final scene I show my shitty dirty ass. Sexy video with dirty talk, destroy my panty and big shitting with crystal clear details. HD quality. Enjoy it:) With lots of love from me!
Cast: Princess
Genre of video: Solo, Shitting, Scatting, Masturbation, Defecation
Duration: 00:30:23
Quality: FullHD 1080p
Resolution: MPEG-4 Video 1920x1080 23.976 FPS 7168 kb/s
Format: mp4
Size: 6,97 Gb
Download Princess - Worship My Poo I Sniffing, Licking, Chewing Poo from VipFile
Comments (0)
Write Comment
Related Scat Video: